Digitizing business operations at University Leiden
Thanks to technological advances, education is personalizing along the principles of 'any time, any place, any path, any space'. Universities and colleges will likewise offer modern online and offline learning concepts. The required flexibility, scalability and user experiences require an appropriate IT infrastructure that facilitates this optimally. From our consultancy practice in the education sector, we present the vision on this topic as seen by some of our customers. This week, the floor is given to Rob van den Wijngaard, Director of the Administrative Shared Service Center at Leiden University.
'Replacing complexity with uniformity is a quest'
The Administrative Shared Service Center (ASSC) was established in January 2021 within Leiden University, which, from a multidisciplinary perspective, will have to make an important contribution to the realization of an appropriate, future-proof IT infrastructure.
ASSC director Rob van den Wijngaard and his teams have been facilitating various functional domains and stakeholders in the field of HR, finance, IT, customer relations and document management from the ASSC for over a year. "Our field of work is broad and diverse within a complex environment. Due to the decentralized setup, the faculties have a high degree of autonomy. The challenge is to provide an efficient, user-friendly and contemporary service with which everyone is satisfied."
"If you really want to mean something to people and the organization as a shared service center, then mutual chemistry, trust and being people-oriented are fundamental," says the ASSC director. It typifies Van den Wijngaard as a leader and helps him with his responsibilities within Leiden University. "I usually give a lot of space and trust to colleagues. That's how you make the most of everyone's unique traits and skills, so too within the MT."
Multidisciplinary
Leiden University, like any traditional educational institution, operates in a changing social and economic dynamic in which the organization must move efficiently, quickly, with agility and scalability to meet the changing needs of both students and people working within teaching, research and support functions. "This development is being driven by broad digitalization." Other keywords include connection, innovation, diversity, inclusivity and self-reliance.
Digital transformations, according to Van den Wijngaard, should not be limited to modernizing existing IT. "Such a fundamental change process is highly multidisciplinary. If you pull a string within one domain, it will irrevocably move elsewhere. The HR component in particular is very important and is quite often overlooked."
The ASSC director promotes a multidisciplinary approach that includes aspects such as people and culture, processes, management and organization, customer interaction and information technology. Change is thereby always embedded in the big picture.
Industry standards
That holistic view was also the starting point of Anderson MacGyver's analysis, which involved all key activities and stakeholders: boards of directors of functional areas like HR, finance and IT. Plus the people responsible for information management, the ISSC (focused on hardware support) and the ASSC board. "The result is a widely supported and inspiring report including a concrete approach for the follow-up process."
Van den Wijngaard continued: "The report confirmed what we already thought: that for many basic activities you can suffice with uniform processes and solutions. You can for example use cloud-based platforms in the HR domain. Think of Workday or SuccesFactors, which have been developed as 'industry standards' specifically for higher education or for a specific functional domain."
Uniformity
Anderson MacGyver's MultiModal analysis helps with what is known as the "fit for future" design of IT. The colors green, blue, orange and purple stand for different types of business activities, such as: common, specialized, distinct and adaptive business activities. (a more in-depth explanation of the model and business activities colors can be found in our whitepaper 'MultiModality')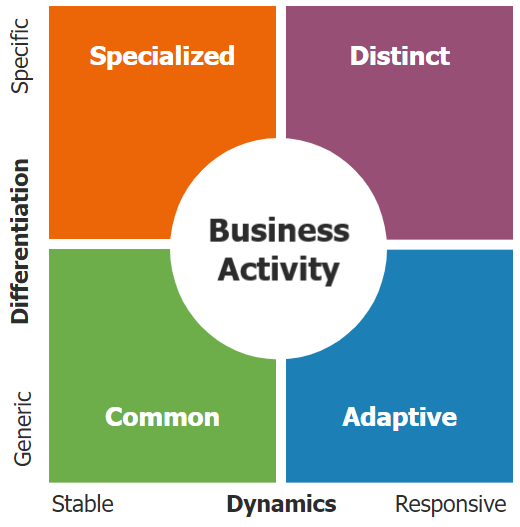 The analysis showed that a lot of energy was spilled on insufficiently uniform and harmonized basic activities. When you address this, people can put more time and energy into things that make a difference for the university. "Set up eighty percent of all things tightly and as standardized as possible. For the remaining twenty percent, you then provide customization or specific solutions, with which you optimally relieve and support people."
"

Set up eighty percent of all things tightly and as standardized as possible, for the remaining twenty percent, you then provide customization or specific solutions

"

Rob van den Wijngaard – Director of the Administrative Shared Service Center at Leiden University
Fundamental choices
Going from "orange" to "green" requires making fundamental choices. "Replacing complexity with uniformity is a quest – both when rolling out new solutions and replacing legacy. You can't force illogical solutions down people's throats. But you also don't have an unlimited budget to deliver the optimal solution for everyone."
"Sometimes you are helped by vendors discontinuing support for older applications. Another time there is a strong impetus from the business. The trick is to continually seize the momentum and urgency to roll out a new application and the corresponding updated processes. All aimed at better supporting the process."
Organizational dynamics
This often requires a different way of managing. Hierarchy is making way for a network-like structure, in which, as stated, action is taken on the basis of cohesion. "Within the complex organizational dynamics there is often an imbalance between the way you organize processes, IT and responsibilities. You can only put the right pieces of the puzzle in place when the organizational structure is in order."
Within Leiden University, the ASSC is a link in the overall chain where execution, policy and the organization come together. "From that triangle we look for the connection to get things done."
To avoid creating false expectations, Rob van den Wijngaard says it is important to communicate well with all stakeholders. "It requires constant coordination and transparency to match our solutions to the expectations, urgency and ambitions. Again: that quest is our challenge, given the obvious limitations in terms of people and resources."
Solid foundation
Due to the scarce internal resources and the high workload at the university, the 'fit for future IT' is still a work in progress. "That's an important disclaimer." The journey is not an easy one. The ASSC director is nevertheless satisfied with the results: "We exist for eighteen months now. In the first year we worked hard to put a solid foundation in order, also in terms of MT and teams. In the meanwhile, great solutions have been rolled out."
Interested in Anderson MacGyver's solutions for digital services?
Contact our specialists! We are happy to assist you.
Back to previous page