Start with a true common language
Last year I went to New York city for a family visit. On the night of arrival my family took us out to dinner. Still slightly shaking from the flight, I told my English-speaking aunt that I did not have a major appetite. "Don't worry", she said, "feel free to just take an entrée". Assuming she meant a small, starter-dish, the word 'entrée' seemed to be derived from the word 'entrance', I happily accepted this plan. You can imagine my surprise when a little later my gigantic dish was served. Upon asking my aunt how large her dish, a main course, would be if this was only the entrée, a big smile appeared on her face explaining to me that in the USA the word 'entrée' is used to indicate the main course.
Common language
Although we were both speaking the English language, my aunt and I had misunderstood each other due to our own frames of reference. Such miscommunication occurs often within organisations as well. Despite speaking the same language, it appears to be a challenge for business units with a different focus, for example Business and IT, to correctly understand each other. A true common language can offer salvation. To achieve such a language, Anderson MacGyver uses the Operating Model Canvas (OMC).
Operating Model Canvas
The OMC (see the image below for an example) is a model for the analysis of business activities and connects the business model and the processes, data, and IT-systems of an organization. We invariably print the OMC on a A0-format poster, which shows the interplay among activities, customers and business partners and the relevant information and IT-aspects in a glance. Seeing all these elements on one poster is often new for our clients. The strength of the OMC lies in connecting business- and IT-aspects and the visualisation of their relationships. The OMC has an important side effect: it stimulates the usage of one language for all business units involved, a true common language for business and IT.
Unique
Each OMC is different. Organizations operating in identical fields can execute similar business activities, but each organization is unique due to its specific vision on services, its choices to realize ambitions, or its relationships with customers. Therefore, while developing an OMC, we actively involve our clients in three workshops during which we collectively map the organization and find out what it is that makes the organization special. In these moments, whilst standing in front of the OMC, interesting conversations regarding the core business of the organization and its purpose arise, during which workshop participants develop a true common language by aligning their frames of reference. All facilitated by a model that is understandable for and often supported by the entire organization
For those still wondering, I overcame my personal language shock. Once the astonishment had faded, I happily consumed my starter main course. Regardless, in the future I will check if we are truly speaking a common language.
Example OMC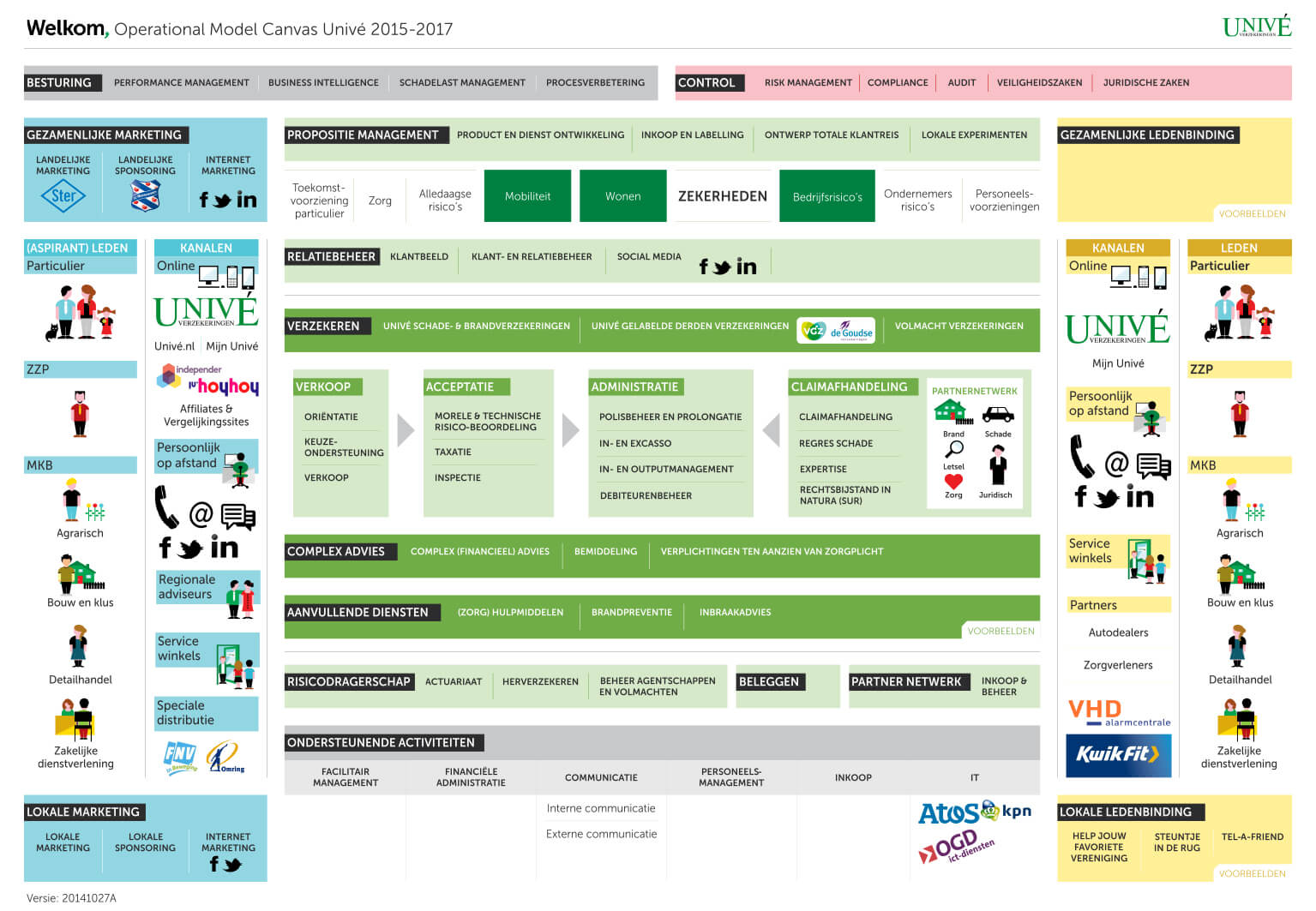 Back to previous page