Registration CIO Masterclass
The CIO Masterclass is a hybrid event. It is possible to attend both online and physical at our office in IJsselstein, The Netherlands. Please register in the form below and indicate if you want to attend online.
CIO Masterclass: Master your digital journey
Tuesday 21 March, 15:00-16:45 CET
This event is designed for CIO's, CDO's, CMO's and technology- and digital leaders. It is a great opportunity to learn from NS Dutch Railways that operates on one of Europe's most dense rail infrastructures
Keynote Speaker: Ivo Steffens, Director of Commerce at NS Dutch Railways
We are proud to have Ivo Steffens on the podium of this CIO Masterclass. Ivo is an experienced business leader, with a passionate drive to make NS Dutch Railways the best mobility provider in The Netherlands. He has held leadership roles at Transavia and KLM Royal Dutch Airlines before joining NS Dutch Railways in 2018. His leadership skills were recognised by winning the prestigious Young Captain Award 2021. Currently Ivo is Director of Commerce and Lead ComIT (Commercial and IT) at NS Dutch Railways.
Mobility is in a big transformation: people are looking for ever more flexible, sustainable, and affordable solutions to get to work, school, family, and friends. The past COVID period has accelerated this transformation: public transport has become a complex public/private ecosystem. This is the context in which NS Dutch Railways operates with an ambitious digital agenda, with core themes like changing travelling behaviour, mobility as a service, the digitally connected traveller and new payment services. This challenging context has high impact on themes as organisation, skills, digital capabilities and leadership vision and guidance.
Ivo will share the why, how, and what of this ambitious digital journey at NS Dutch Railways and his personal experiences as a leader for this digital transformation.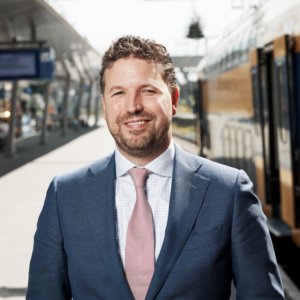 Anderson MacGyver speaker: David Jongste
David is Country director Benelux at Anderson MacGyver and an experienced consultant in setting up and driving digital transformations and related organizational change. David is capable of translating digital challenges to concrete goals and a pragmatic approach. Whether the case concerns applicability of technology and data for business, product, and client interaction or the design of digital organizations. The result and the human factor are always his focus.
David will share his lessons learned on large digitalization initiatives in both the B2B and B2C commercial domain with real life anecdotes from the Anderson MacGyver consultancy practice.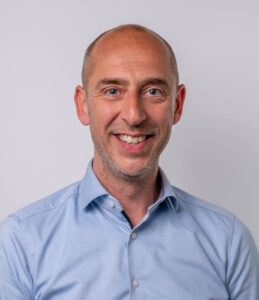 Don't miss it!
Anderson MacGyver is a European consultancy firm that specializes in digital strategy, tech and data organizations and technology enabled change. We advise board members and senior management in shaping and driving their digital agenda.
Program
15:00   Start CIO Masterclass
– Crystal Reijnen
15:15    Vision:
"How to master your digital journey"
– David Jongste, director Anderson MacGyver Benelux
15:45   Keynote: :
NS Dutch Railways as a leading digital mobility provider – Ivo Steffens, Director of Commerce NS Dutch Railways
16:30   Interactive Session
– hosted by facilitator Crystal Reijnen
16:45   Informal drinks
(end of digital program)
Sign up today!
Join us digitally or physically and meet others that share our passion for digitalization. Please let us know if you are able to join by registering above.
Anderson MacGyver
The core purpose of Anderson MacGyver is to harness the unrealized business value for our clients by leveraging the powerful potential of technology & data. We provide strategic advice and guidance to board members and senior management to shape and drive their digital journey.