Translating a high-over ambition into a concrete implementation. That was the main challenge for Anna Geraedts, Data Science Manager of Arbo Unie. Together with Anton Bubberman of Anderson MacGyver, they built a solid data foundation that should contribute to the vitality and health of working people and thus make organizations more successful.
Anna Geraedts, who hails from the occupational health and safety sector, was asked by Executive Board member Willem van Rhenen to help Arbo Unie do more with data and digitalization based on its strategy. The organization was still in the pioneering phase in this area. "That gave me the opportunity to build everything from scratch," Geraedts says. "In doing so, I was able to use all my previously accumulated knowledge and experience. For example, how to put together a data-science team and avoid getting stuck in BI and reporting."
If you really want such a team to come up with predictive models, for example, you have to clearly ask for them. "Then they can deliver very concrete answers and solutions. For example, in the area of planning or predicting behavior," says Geraedts – not a data scientist herself, but as a PhD psychologist and through experience in similar roles eminently data-savvy. She has worked at Soulve Innovations, HumanTotalCare, and ArboNed, among others.
Within Arbo Unie, it quickly became clear that much more was needed than simply rolling out the data warehouse acquired shortly before she joined the company. In the interaction with Anderson MacGyver, it was decided to take a programmatic approach, with a clear structure and objectives. Not just building, but designing a data organization and laying down a data foundation was the route.
Issues
"For the first few months in particular, I sought input from all levels, including the Executive Board," says Anna Geraedts. "What are the main pain points, where do people see new opportunities and where do we ultimately want to go as an organization? We then relatively quickly outlined the program together with the people from Anderson MacGyver."
This involved several issues, according to Anton Bubberman, management consultant and Guild lead Data at the consulting firm. "What issues regarding data management and data architecture needed to be internally managed and what could we manage externally? But also the question of what business roles you need, for example, to improve data quality and to establish ownership of the data."
Geraedts: "Gradually it became clear what the possibilities are for extracting value from data and what had to happen in terms of processes and systems in conjunction for this. In the process we ran into various challenges, for example that some customers or individual users could be located in different ways in the systems."
"It was and often is also difficult to be able to unlock certain data from crucial legacy systems," adds Bubberman. "There was also the privacy issue surrounding the proper handling of personal data and compliance with legislation. Medical privacy in particular is very sensitive." All such issues were addressed together with techies, business people and management.
Five streams
The data program within Arbo Unie was divided into five streams: realizing data awareness, governance and organization, the data foundation, platform & data product realization, and materializing the potential value by defining, prioritizing and planning the data initiatives.
A number of important steps have since been taken. "We have established a data warehouse that can be used for the medium term. In addition, in a tremendously tight labor market, we managed to recruit about a dozen data professionals within a quarter. The backbone is now in place and we can now really get to work with data."
What helps, according to Bubberman, is that Arbo Unie really has a pupose, a socially relevant mission, to which the data strategy and data specialists contribute significantly. Anna Geraedts: "It's true that we are often chosen over that axis. It's nice to be able to mean something for the Dutch labor market through your work. What we do really has an impact on people's lives."
Sparring partners
According to the Data Science Manager, the value of Anderson MacGyver lies in its broad involvement. "Several consultants with diverse knowledge and experience as true sparring partners got the organization and the Executive Board on board. Anton's commitment was fundamental in getting everything around data management off the ground, such as the data warehouse and data architecture."
"

Several consultants acted as real sparring partners in getting the organization along

"

Anna Geraedts – Data Science Manager at Arbo Unie
Bubberman: "Some of those involved in the program focused mainly on the organization, while Anna and I were more on the data and technology side. The great thing about Anna is that there is really someone standing there, taking steps and getting things moving." Given the nature of Arbo Unie, that is sometimes quite a task. "An organization where people want to deliver quality, to do things really well. That's very logical in a field where it's about people's health, but it sometimes slows things down."
Challenges
Arbo Unie still faces challenges, according to the Data Science Manager: "What will the organization look like going forward, which people do we bring in and how can we retain them?" Anton Bubberman adds: "To that end, we still need to get a better view of what we really want to achieve as part of the digital strategy."
Around the data foundation, moreover, there are technical aspects at play that have not yet been tackled. "We are struggling, as I said, to extract data from some crucial systems and new data sources also need to be added, in order to get new use cases based on that. Once that is solved you automatically get a snowball effect," said the management consultant.
Starting with external data is an option, although he says the focus is first on getting their own data in order. "If we can then combine that data with data from other sources, a lot is indeed possible, and exploratory work can be done quickly. But scalable data science solutions in production are challenging."
When asked for a tip or recommendation, Anton Bubberman mentions the importance of a looming perspective at all levels, in which the coherence of all steps and initiatives is also clear to everyone. Anna Geraedts agrees: "Make sure you get the organization on board at the managerial level, so you can always make the right decisions quickly."
Arbo Unie promotes working people's vitality and health, and with that makes organizations more successful. Based on the motto 'feeling good', the focus is on the best possible working conditions. Data and technology can help to achieve this, the board realized. The challenge was to translate this vision into actual tangible value. Chief Health Officer Willem van Rhenen and Tim Beswick of Anderson MacGyver explain how the groundwork was laid for this.
"The value of digital solutions was well proven during the corona pandemic," says Willem van Rhenen, CHO and BoD member of the approximately 800-employee, seven-label Arbo Unie. "The pandemic amplified the need for innovation and has made us even more aware of how data and technology can contribute to realizing our strategic ambition: the most progressive health and safety service provider that keeps people vital and healthy."
Data value is still something abstract within many organizations, according to Tim Beswick, who is involved as program manager from Anderson MacGyver. "They find it difficult to go from a vision to tangible business impact." Van Rhenen adds: "Many companies are sitting on a gold mine of data, but they have to make the effort to go digging."
"

Many companies are sitting on a gold mine of data, but they have to make the effort to go digging

"

Willem van Rhenen – Chief Health Officer at Arbo Unie
Moreover, the quest for improvement and value was driven by a different kind of pressure. With the rapid advance of digital solutions, Arbo Unie's Chief Health Officer says it is not inconceivable that at some point a fully data-driven competitor will emerge. "Look at the rise of a phenomenon like ChatGPT. If you are aware of what is possible in terms of data and algorithms, then you understand that as an organization you have to do something with this."
Predictive model
By the way, Arbo Unie was already doing interesting things with data. Years ago, a model was created to predict long-term absenteeism among its 1.2 million employees served. "That was also based on data and an algorithm," Van Rhenen said. But to move forward more was needed. In late 2021, Anderson MacGyver joined, and shortly thereafter Anna Geraedts was appointed Data Science Manager. Then Bas de Wit joined as Chief Information Officer. A multidisciplinary collaboration was eventually established with people from Arbo Unie, Anderson MacGyver, and Inergy, which specializes in data and analytics.
Tim Beswick: "As an organization, you really have to believe in the value of data and join forces across the organization to make that happen. Just having a strategy or conviction at the top or a group of data professionals on an island will not get you there. The support from the board is crucial and data professionals are important, but ultimately it is about realizing an organization-wide collaboration – including the users. Our first step was to create a program design together with all stakeholders; from business value-related goals to a structure in which we created concrete data products while working on a sustainable data foundation."
Circularity
The availability of data is important to Arbo Unie because it leads to new insights. Van Rhenen, also professor of Engagement & Productivity at Nyenrode Business University, calls it an addition to the scientific method of review, confirmation, or refutation. "Traditionally, you take 'evidence-based' decisions, which are supported by facts after research. With the availability of data, you can also turn that around: based on trends and patterns, the data itself can give rise to something."
As an example, the Chief Health Officer cites the formal distinction between a mostly work-related burnout and a mental disorder such as depression, where, based on data, there may be an overlap in symptoms. By approaching seemingly different issues unbiasedly from the right data, you may be able to resolve them in a corresponding way. "That's an interesting side benefit."
The concept of circularity also plays a role: the data generated in the process is enriched with new data and insights, possibly from other sources, and then goes back into the process. "This is how we make our services better and better," said Willem van Rhenen.
Five streams
The data program within Arbo Unie was organized into five streams: realizing data awareness, governance, and organization, the data foundation, platform & data product realization, and materializing the potential value by defining, prioritizing, and planning the data initiatives.
"Those were all journeys of discovery," Beswick says. "It was a constant search for the right balance between things under the hood, such as data architecture and data quality in the foundation, and the business impact through value-producing data products. We made step-by-step decisions in close collaboration with user groups; always based on business priorities. Multidisciplinary teams took responsibility for completing the concrete actions in their domain."
"

It was a constant search for balance between under-the-hood things and the business impact of data

"

Tim Beswick – Management Consultant at Anderson MacGyver
"The competencies within the core team and in the streams were very complementary and worked well together," says Van Rhenen. "People cared about each other and reasoned not from individual interests, but from the bigger picture. Also, Anderson MacGyver was really part of the whole. This was largely to Tim's credit. He pulled it off the ground together with Anna Geraedts and that deserves a 10-plus as far as I'm concerned."
Adolescent
According to Willem van Rhenen the director, the best result is an energetic club of about a dozen data professionals who look at the business from a holistic perspective and seek cooperation. "The child and teen phases are already behind us and we now have an adolescent data organization. We are creating value and in doing so we have made more progress and impact than I had previously hoped."
Tim Beswick makes the comparison to a snowball. "Data is spread throughout the organization like snow on the ground ready to be rolled up by the snowball that we created and got moving – also by the business."
"The next step for the data department is to dare to step up and claim this value as well," concludes Willem van Rhenen. "After all, our future strength will be determined by this team in cooperation with the rest of the organization. You can see that happening now: people are moving along and becoming aware of the possibilities. A lot has happened and been achieved in a year and a half."
Eneco is transforming from primarily supplying gas, heat, and electricity to becoming a reliable energy partner in the sustainability transition. In addition to in-depth knowledge of individual customers, this requires a broader product offering that is delivered in various combinations by an expanding ecosystem of partners. In the commercial domain, technology, under the leadership of Alex Palma, acts as a driver of change.
Assisted by Anderson MacGyver, a Digital Lighthouse program was set up three years ago, with the broad rollout of Microsoft Dynamics for customer relationship management being the most notable. Due in part to that CRM solution, the tech domain has pushed the transformation to the business. In conversation with involved consultant David Jongste, Alex Palma, Head of Customer within the Business Technology Organization (BTO), talks about the crucial moments, insights, and decisions. 
Relevance
For Palma, the journey begins with his decision to swap his responsibility for the commercial IT domain at PostNL for a similar role at Eneco. "The energy market is one of the most socially relevant sectors. Full of constant changes and in the news every day. In 2019, in addition to the movement toward sustainability, the acquisition of Eneco by a large, capital-heavy party was already in play. Hence, there was a market and there were resources to make something beautiful out of it."
Former CIO Mario Suykerbuyk and Alex Palma knew each other from their previous work environment, where they were involved in a similar transformation. David Jongste stepped in early in 2019 on behalf of Anderson MacGyver, which is also PostNL's in-house consultancy. "We helped analyze what needed to change in terms of technology and operations to make the transition in the market," the consultant said. 
This bundled experience contributed to the success of Eneco, now acquired by Mitsubishi. Palma: "We have taken on a large social responsibility: helping the Netherlands and perhaps Europe shift towards sustainable energy use. That means optimally supporting business customers and consumers across a variety of channels."
"

We want to help customers across a variety of channels become sustainable, in the best way possible.

"

Alex Palma – Head of Business Technology Organization Customer at Eneco
Energy coach
As such, Eneco is transforming from an energy supplier to an energy coach who knows what drives consumers and businesses within their specific context. "The energy transition requires substantial investments, so the advice and customer experience must be extremely good. This then leads to mutual trust and loyalty, which ultimately forms the basis of every relationship."
David Jongste: "Then, you are no longer competing on price, but a partnership is formed." Alex Palma agrees: "The real value is in supporting the commoditizing process. This shift puts high demands on the supporting technology. The Digital Lighthouse has helped guide this within the commercial domain."
Energy providers have traditionally operated based on 'connection', which often boiled down to a postal code and house number. "Were you aware that at that time the customer was barely in the picture in a uniform way?" Palma says, "At PostNL, we went through a similar change, although the relationship with an energy provider is much more direct. The intended change is and was from product-focused to customer-focused."
A single truth
There are several interrelated elements in that transition, all of which you need to get right. Jongste: "Getting to know the customer, adjusting the product portfolio, intelligent pricing and a longer-term customer relationship. With these steps, what was the main route and order?"
According to the Head of Customer, it is crucial to have a clear view of every consumer and business user. "Knowing and understanding what customers want is the starting point of a real relationship. We wanted to have all the information about the individual customer – often spread across multiple internal systems and with our delivery partners – available as a single truth. Having the data in order forms the basis."
Palma is aware that many companies integrate existing channels and supporting legacy IT through an intermediary layer, but he believes that this does not solve the underlying problems. "You have only created a shell that masks the underlying problems. That's why we looked for a more fundamental solution."
Solid core system
"The truth about the customer is the heart of our service," he continues. "This is where the data from all commercial processes comes together: from marketing, sales, field services, and so on. Our foundation is one CRM system, a solid core where everything comes together."
David Jongste: "The program goes beyond IT – it involves different ways of organizing and working within commercial teams, adjacent domains, and with partners. Traditionally, multiple parties interact with the customer. In order for their knowledge and insight to filter down to Eneco, they all need to work from the same truth, the aforementioned commercial core where all customer information is uniformly stored and available."
"Moreover, it requires other capabilities to interact with the customer," adds the BTO Head of Customer. "In the past, we as Eneco mainly engaged in partner management towards parties that approached customers with commercial offerings. Now it's about developing a customer engagement ecosystem, where we always know how to approach and support customers based on the data."
Decoupling
With that, Jongste says, begins the development of customer knowledge and commercial capabilities and processes. "You just mentioned the decoupling of commerce and delivery. Can you tell why that is important?"  
Alex Palma: "In the past, commercial agreements were linked to the product to be delivered – such as a possible discount or the length of the contract. Now there is a split between what we offer commercially and what each partner ultimately delivers to which customer. That provides us with the flexibility to offer products from different parties in a variety of bundles."
David Jongste: "That decoupling is an essential step towards greater product diversity – think about offering heat pumps, solar boilers, charging stations, and so on – and hence the role as an energy partner. Not only do you now have a much better customer view, but you can also move forward on the supply side based on a more dynamic ecosystem of partners."
Alex Palma: "It is an example of how, through IT and flexibilization of the operating model, you can make the transition from a product-focused to a customer-focused company. Modern technology, in this case in the form of a central CRM system, is thereby operating as a change agent." 
Ecosystem
With delivery, it's first and foremost about reliably fulfilling the role of an energy coach, proposing the best options for sustainability in the right order. "That means orchestrating both the products and the partners who have to start delivering this in the right way and in harmony."
Furthermore, Palma and his team are aiming for a clear, personalized invoice that contains the exact information customers are looking for. "Not too brief, but not too detailed either. All of this should lead to trust and loyalty. From a commercial point of view, these things are absolutely fundamental." 
"The most successful companies are largely marketed by their customers. Subsequently, you have to be very careful about that, because if you are not transparent in terms of commerce, delivery and billing, you will be downgraded from green to greedy, so to speak."
Interaction
The changing interaction with third parties ensures that transformation is not limited to commerce. A holistic view at products and the customer relationship requires alignment between different departments and domains.
"When something is delivered 'behind the front door' on behalf of Eneco, often those are the moments of truth for your customers – the moments when you really matter," Jongste states. "The parties in the supplier ecosystem, for example, determine an important part of the brand experience. How do you deal with that?"
According to Palma, this touches on the question of who owns the customer. "We argue that operational departments and third parties are welcome to use their own data, but that all data on the total context of the customer should be up to date and available. All interaction with the customer, in part on the basis of all that data, is therefore ours."
Lessons learned
"It's not all finished yet, but what have been the most important lessons learned so far?" Palma: "The 'drive for change' is always based on a promising perspective and/or a burning house. In the energy market, although there was a need for sustainability, the mix of solutions differed from case to case. The promising perspective was still surrounded by questions on the product side. We may have underestimated that."
Since the terrible war in Ukraine and the sharp rise in energy prices in part because of it, there is now a need for change. "Sometimes you have to leverage circumstances to speed things up and give direction – both internally, in terms of technology and for your customers. A better technological and operational base helps us to be prepared for a changing need in the market."
"

Technology helps to be prepared for changing demands in the market.

"

Alex Palma – Head of Business Technology Organization Customer at Eneco
Leadership
In summary, three things stand out to David Jongste: based on Eneco's strategic direction, it was determined what needed to change in the areas of IT and business, in order to then address it step by step over several years. "In addition, the complexity required a good balance between the long term and the delusion of the day. This is where leadership and perseverance come into play."
"A matter of keeping one's back straight while seeking connection in multiple areas," concludes the Head of Customer within Eneco's BTO organization. "That is not always easy. There is no cookbook available that tells you exactly how to do it all, either. For me, the most important thing is that we ultimately do what is best for our customers and therefore also for the company."
Interested in Anderson MacGyver's solutions for digital services?
Contact our specialists! We are happy to assist you.
To live up to its ambition of 'preferred delivery organization', PostNL is working to better connect with customers. Through its website, e-commerce channels and app, it aims to offer consumers and business users an unified, personalized experience. Together with Anderson MacGyver, the organizational and technological choices that go along with that were examined.  
PostNL is considered a textbook example of an organization that has been making the right technology choices for over 10 years, following the broad embrace of cloud computing in 2012. Even with regard to new activities around digital commerce, they are building on the standardization of yesteryear, combined with the more recent choice of a service layer architecture.
As a trusted in-house consultant, Anderson MacGyver was part of the foundation of PostNL's technology direction, but also thought about digital developments within the commercial domain. The involved consultants David Jongste and Joost Doesburg look back on the choices made in 2021 with client Jeroen Manten, Head of Customer IT at PostNL. Together, they also look ahead to the future.
Manten: "Somewhere around 2020, the term Digital Experience Platform (DXP) was introduced by Gartner. Exactly at that time, we were looking within the commercial domain for an umbrella under which to hang several capabilities. About a year and a half ago, as a trusted partner, we asked Anderson MacGyver how we could apply such a DXP based on our history and within our specific context and culture."  
Digitalization
Several initiatives were ongoing within PostNL in the area of commercial IT. This partly fell under the newly established Digital Business Unit, which focused on all visible customer interaction via api's, web and app. Beneath that lay the Customer IT domain, where there had also been a lot going on over the years.  
"In 2013, we had as many as 750 applications running," Manten continued. "Many of these we have largely phased out, harmonized, rationalized or integrated within the Salesforce platform over the course of four to six years. Once we realized that base, we were faced with the challenge of contributing to the new strategic agenda: the digital transformation of PostNL."
"

We want to help customers across a variety of channels become sustainable, in the best way possible.

"

Alex Palma – Head of Business Technology Organization Customer at Eneco
David Jongste: "The strength is that with DXP you had a framework with which you could develop different capabilities, and all the technology choices that go with them. Hence, you could determine in a structured way what you could get out of the market and in which areas you would want or need to develop specific things."
Manten agrees: "Until recently, we used the principle of 'best of suite' within commercial IT. Everything that could be done within Salesforce we did within this platform. That was strongly related to the phase we were in as PostNL, but did not always bring us what we were looking for. The question in 2021 was: what do we really need to support the intended digitalization?"  
Foundation
To take those steps, the harmonization and rationalization of the commercial processes on Salesforce was a great first move, according to Jongste. "The '1 PostNL'-strategy of several years ago is the foundation for further digitization of customer and market interaction. That is a strong foundation for the current ambition to be the delivery provider of choice for both sender and recipient."  
Joost Doesburg adds: "It's about making the entire customer journey digital across all channels, wherever that adds value. In doing so, you thought carefully about the level at which you set up the services, whether agnostic to the platform underneath or not. That was the idea, but to what extent did that work out?"
"Digitalization applies to our own channels," Manten said. "But also to those of our customers and any third parties. We want to be wherever the customer is. For that, we need a modular, composable architecture. Within our domain, we use a three-layer api architecture for this purpose: core api's, process api's and experience (customer experience) api's."
The question was what PostNL Customer IT could source from parties in the market for this purpose and what should be developed in-house. "Everything from the ambition to be 'the preferred delivery provider for senders and recipients'. So the question or need from the business is always leading."  
MACH-concept
In addition to the '1 PostNL'-platformstrategy around the operational core, the MACH concept within the DXP vision played a conditional role in the shift of focus toward the customer. MACH concerns the combination of microservices, api-first, cloud-native and "headless" front-end user experiences across multiple channels, decoupled from back-end systems.  
"To what extent do you realize the intended acceleration with this?" asks David Jongste. Manten: "We are busy working on capabilities such as personalization. Integration is also at play. We can now move toward 'best of breed,' where integration is done based on api's. Thanks to the MACH foundation, we can now integrate a Customer Data Platform (CDP) as part of the DXP into the value chain within two months."
"You can then enrich the core customer data in Salesforce with data unlocked from other sources," Joost Doesburg states. "With that, you can build profiles and segments of customers so that you can provide consumers and business users with specific information via the CDP. Has this already been realized, or does it still need to be implemented?"
Jeroen Manten: "We are starting that now. Within the consumer domain, we already have a similar concept with the CCB (In Dutch: Centraal Consumentenbeeld). A recent marketing campaign consisting of a video that featured eight personalized textual elements generated by the CCB. In addition, data from the platform is used for business ruling and machine learning around customer interaction."
Resources
"Apart from the right choices regarding organization and IT, the consulting process with Anderson MacGyver ensures that we deploy scarce resources on the right capabilities," Manten says. "We can visualize the focus for the next 1,5 to 2 years, including the target architecture. Besides Salesforce, we deploy point solutions, which fit PostNL's position, ambition and development phase."   
"

Technology helps to be prepared for changing demands in the market.

"

Alex Palma – Head of Business Technology Organization Customer at Eneco
A consideration in the decision was, for example, that existing DXP functionality within Saleforce places a much heavier demand on technical skills than a specific application that fits within the best-of-breed vision, where it is mainly about the right business rules and questions from the marketers – who are increasingly developing as data analysts. "This allows you as IT to slowly step back. That's quite a mind shift."
"It's nice to see PostNL supporting business initiatives with the right IT, rather than the other way around," Doesburg said. David Jongste adds: "When you know what points you want to excel in as an organization, that justifies specialized IT solutions for those specific points. Some capabilities around DXP are critical to PostNL's competitive ability in the marketplace, and that's why an addition to the standard Salesforce platform is legitimized."
Strategic
This selection process, according to Joost Doesburg, resembles multimodal analysis, a core concept of Anderson MacGyver that connects business activities with the right technology and organizational choices based on specific characteristics. "Returning briefly to the development phase: where are you now and what will be the next step?"  
Jeroen Manten: "By Dutch standards, we are possibly ahead of any other organization of our size. Internationally and looking at what is possible, we are still at the beginning. The main question is how we will implement this with the business. The DXP vision has now been included in the strategic plan of both CDO and CIO."
The next year is dominated by the implementation of CDP capability. The next deepening lies in the area of search and context – both at the concept level and in terms of concrete implementations. "Moreover, we are reshaping the customer IT organization slightly: three people in addition to me, all in a product owner role, are each responsible for a logical cluster of three of the total of nine DXP capabilities within PostNL."
Iceberg
David Jongste: "This trajectory shows how important it is to have a strategic vision as an organization. Starting with rationalization and harmonization as part of '1 PostNL', MACH as a pivot to building digital capabilities in the customer domain." Joost Doesburg: "The platform strategy deployed at the time did not foresee DXP, but it does ensure that you can now develop in this direction."  
"Digital commerce is like an iceberg," concludes Head of Customer IT Jeroen Manten. "For the customer, at most 20 percent is visible – via web, the app, or a plug-in. That is the domain of our Digital Business Unit. But that 80 percent in the traditional processes underwater has to be in order to be able to realize visible things for the customer."
Interested in Anderson MacGyver's solutions for digital services?
Contact our specialists! We are happy to assist you.
Digital transformations and strategies should be deployed primarily from a value focus. More than the internal processes and systems, according to Erik Vuuregge, it's all about distinctive value for customers and the ecosystem in which organizations operate. Supporting organizations in co-creating their strategy will be his approach as the new Lead Strategy at Anderson MacGyver.
"Showing what form of growth and value creation best suits our clients," says the former entrepreneur who joined the consultancy in 2019. Shortly after completing his Master's in Business Informatics at Utrecht University, he started a company in 2009 that developed solutions especially for SME-manufacturing companies.
"Besides managing software developers and other IT specialists, I gave a lot of business- and strategy-related advice," he says. "I was also regularly busy with IT and organizational design, but my heart is really on the value side." After an Executive MBA at Nyenrode Business University and four years as a Management Consultant, Erik Vuuregge is the new standard-bearer of Anderson MacGyver's strategy branch.
Make a mark
Vuuregge is not afraid to make his mark on the DNA and face of the Strategy Guild. "I am very appreciative of my predecessor's work, but I like to push boundaries. For example, with clients, I want to focus more on the part of their strategy and operations that makes the money. In other words, the entrepreneurial side of technology and data that brings value to the customer and the ecosystem."
"As far as I am concerned, we no longer consider our clients' existing corporate strategy as the obvious starting point for an internal change process in this regard. As a consulting firm, we can make even more of a difference if we help think through how organizations can differentiate themselves in the digital age. In doing so, we may also gain new conversation partners. In addition to the CIO, we will more often sit at the table with CEO and CDO."
Thought leadership, the intellectual property of Anderson MacGyver remains leading. "We use our proven models and concepts, such as the multimodal analysis and the operating model canvas, in all trajectories. We will continue to deploy and develop these. I would like to keep all of this practical, however. My background as an entrepreneur probably plays a role here. I showed client executives how they could operate smarter, serve their customers better and increase sales. I still view organizations primarily through this lens."
Creativity
In addition, according to the new Guild Lead Strategy, you cannot separate strategy from creativity: "Thinking about the future, developing scenarios and roadmaps, constantly looking for improvement and new opportunities. This also includes a clear and sincere 'purpose' and a keen view of value within the ecosystem."
All of this is reflected at a large energy company which Anderson MacGyver works for. "Their purpose is to support people and businesses in the energy transition and contribute to combating climate change. There is also a clear value proposition that is in line with the higher goals of providing sustainably generated energy. Data and digitalization also enable new products and business models here."
Business activities and operations have the ultimate goal of delivering value. The analytical and results-oriented Vuuregge helps figure out and argue the strategic focus. After that, it stops for him and other forms of service come into the picture – whether or not provided by Anderson MacGyver. "Don't get me wrong: I find things like enterprise architecture, IT and sourcing issues very interesting, but I like to choose another form of focus and depth."
Fruitful approach
"For me it's really about value for the business, the customer and the ecosystem. I do that in close cooperation with fellow Management Consultants Gert Jan Oelderik and Tomas van Woerkom. Of course, we can call on a full team of other specialists."
An example of a fruitful approach is Vital Innovation, a company emerging as a platform for sustainable housing based on a digital twin of the home environment. "We helped management and shareholders make strategic choices for the future. This process included an exploration of the ecosystem within which the company operates – using our value web and operating model canvas. In addition, we made a proposal for the implementation of the IT architecture."
"

Our approach is characterized by simplicity, elegance and a proven methodology

"

Erik Vuurregge – Lead Strategy and Management Consultant by Anderson MacGyver
"Our approach is characterized by simplicity and elegance, based on a proven but ever-evolving method," Erik Vuuregge continues. "Within the strategy domain we have worked very hard on this internally in recent years. We can now go public with confidence. Our group management explicitly asked me to do so. As such, I really get all the space I need."
David Jongste was recently appointed as Director Benelux within Anderson MacGyver. The career move of the consultant, who has been with the consulting firm since 2014, is related to further international expansion and development of Anderson MacGyver. With offices in Germany and Sweden, Anderson MacGyver now operates on based on a regional structure. In addition to his consulting work, Jongste had been in charge of marketing and sales for some time.
The new structure comes with greater autonomy for the three European regions and will make it easier for Anderson MacGyver to scale up. Founders Gerard Wijers and Rik Bijmholt can now focus on the big picture, while the countries can manage their own growth and development. "In doing so, our consultants will be supported more than ever from the central vision in applying Anderson MacGyver's concepts, models and ways of working," Jongste states. " Our consulting experience will be anchored even more firmly."
Jongste emphasizes that his appointment as leader of the Benelux organization will not lead to a change in direction. "We are successful as Anderson MacGyver because of a recognizable vision and approach that is proven in practice. Our familial, people- and content-driven culture is experienced as particularly enjoyable by clients and employees. So we're not going to change that – rather, we're going to develop it even further."
Productizen
Characteristically, Anderson MacGyver approaches digital transformations at clients from a holistic perspective, incorporating business activities, organization, architecture, IT and data. In addition to custom consultancy, the international consulting firm works to "productize" intellectual property. This includes the development of INOX, specific software tooling that enables clients to perpetuate the digital course they have set. For the latter, they are working with external partners.
According to David Jongste, internationalization has a favorable effect on thought leadership and thus customer support. "By applying our models in diverse cultural and economic settings, our approach becomes increasingly powerful, rich and resilient. The same goes for our people. At the same time, we will always adhere to core values as a technology-driven people company: passionate, authentic, impactful within a family-like atmosphere."
Ground for impact
Goals of Anderson MacGyver are developing people and intellectual property, growing the team of consultants. "This provides the ground for new energy, insights and impact with clients. We support organizations in their goals: improving customer service, enabling other ways of working, developing and launching products."
Anderson MacGyver often faces complex issues at the organizations it serves. "It's mostly about getting to the bottom of things, breaking patterns and bringing people together," said the new Director Benelux. "When we succeed in doing that, we make that substantial, impactful contribution."
The ambition is for Anderson MacGyver to be at the top internationally in terms of name and impact by 2030. "That ambition is mainly about the road to it and the people with whom we make that journey. Working together, experiencing interesting things. Overcoming difficult moments by reflecting together on what we do, how we can turn things around. But also by forming teams around our clients and really doing it together, co-creating and celebrating successes."
"

Our approach is characterized by simplicity, elegance and a proven methodology

"

Erik Vuurregge – Lead Strategy and Management Consultant by Anderson MacGyver
Sensitivity
To this end, David Jongste brings a combination of talents and experiences: consultant, information manager, team leader, business administrator – sensitive to atmosphere and sentiment. "I do the things that suit me and what I stand for. As Director Benelux, I get to contribute to keeping our foundation in order. In doing so, we create room for new insights and further development. All from my and our core values."
As CIO of PostNL, Marcel Krom was at the forefront of a successful transformation to a digital company. He was the driving force behind technological solutions for optimizing (chain) processes and customer experience. After almost thirteen years as CIO, he will start working part-time as a consultant. Gerard Wijers, director and co-founder of Anderson MacGyver, and Marcel Krom talk about the why, what and how of this collaboration.
"You don't take a decision like that overnight," the former CIO says about the career switch. "PostNL is a beautiful company with great people. I certainly could have stayed there a few more years until retirement. Then my farewell speech would have been mainly about PostNL, while I often got outside the company walls enough to know that there is more. To be able to discover and explore all that, I need freedom and time. I then set a date for leaving, which was postponed twice. After all, it took a while to find my successor and I wanted to hand everything over properly."
Krom deliberately chose not to take on a new CIO role, because then he would once again be in one domain for a long time. He wants to develop more broadly, gain experience in different industries and positions. "As CIO, you are also operationally responsible 7×24 hours in addition to the digital business strategy. After all, if IT doesn't work, nothing works anymore. When you have a thousand systems, and they all have a problem three times a year, you know you're constantly dealing with operational sores."
Making translation
He wanted more time for the creative part: to translate the business activities into the enterprise architecture and then the IT architecture. As far as he is concerned, digital transformations start with the business and end with IT via the operating model. Those three pillars should come together in the architecture. "For me, that is the core," said Krom, who prior to his appointment as CIO held leadership positions for more than ten years at PostNL subsidiary Cendris, which specializes in customer contact.
He then began to have exploratory conversations with various consulting firms. "You quickly come to the consideration: in the Netherlands or internationally? I didn't feel much like sitting on a plane all the time anyway. But also: do the culture and methodology match my own views? I wanted to work two days a week as a consultant in order to have enough time for other activities as well." Krom has been a commissioner of Facilicom Group since 2020 and a member of TWTG's advisory board.
"Marcel called me last fall that he was quitting," explains Gerard Wijers of Anderson MacGyver. "We were on his shortlist and he was curious to see how things worked here. Preferably, consultants join us on a permanent basis, in view of our self-developed approaches and concepts – our intellectual property. Joining as an associate is possible in specific cases. But everyone follows the same training program, participates in in-depth meetings, training sessions, team-building initiatives and so on. Regardless of one's background, competencies or role." That clarity did appeal to Krom. "It is a great advantage that we have worked closely and enjoyably together within PostNL."
Right match
Anderson MacGyver indeed turned out to be the right match, the former CIO explains. "Indeed, we have known each other for some time. They have well-thought-out models and standard approaches for successful digital transformations. Think of the Operating Model Canvas and multimodal analysis to optimally align operations and IT with the business. Or the Value Web, which provides insight into a company's added value within a market or ecosystem. Moreover, Anderson MacGyver is not that big, is humane and has both feet on the ground."
Apart from its philosophy and methods, the internationally developing consulting firm does indeed have a distinctive signature: familial, authentic, passionate and determined to make an impact for clients. Wijers: "That suits Marcel well. He is ideally someone who wants to move forward in a good atmosphere. In addition, he has seen that we only work with the best people. That's a coat that fits and feels right, both for him and for us."
"

Our approach is characterized by simplicity, elegance and a proven methodology

"

Erik Vuurregge – Lead Strategy and Management Consultant by Anderson MacGyver
Half of the time Marcel Krom does other types of work; things that do not necessarily fit with Anderson MacGyver's strategy and activities. For example, in a country or area where one is not active or something within a completely different domain. "Where possible, I will always do something together with Anderson MacGyver or other parties. On your own, you may be able to think fast – this is the direction it should go – but on your own you won't get far. Collaboration and connecting companies allows for speed and makes it scalable."
Within Anderson MacGyver, the 2020 CIO of the Year has no distinct status or role, but 'just started' as an associate on September 1 of this year. "We did a trajectory together last summer and it went flawlessly. We let it all develop organically. More creative, less operational and in different environments."
Developing organically
Gerard Wijers: "The fact that Marcel has joined us says something about where we stand as a company. He is one of the best known and most highly regarded CIOs. In addition to his stature, he has a strong personality. As a person and a professional, he can offer us a lot. We are super happy and proud that Marcel has chosen us. Our impact with clients will be even greater with his knowledge and experience."
Anderson MacGyver stays true to the proven models and methods used to solve challenging puzzles for clients. "We typically do this in consultation, with carefully assembled teams and with attention to both the business activities, the operating model and the IT architecture," said the managing director and co-founder.
"We are at the top when it comes to digital strategies and transformations. We work for clients like Leaseplan, PostNL, Eneco and other large Dutch companies. In the Nordics, we advise Scania, among others. We often advise on projects that require huge interventions and investments. We also find small clients interesting. The most important thing is that we can use our creativity and our craftsmanship."
People and the planet
At PostNL, the transformation was fundamentally about making the company able to withstand change. Given its crucial role, that was an economically and socially very meaningful ambition. "You noticed that in the commitment and energy of the people working at PostNL," says Marcel Krom. "Everyone wanted to show that this huge transformation was possible. For such assignments, I want to have more opportunity. Knowing what's going on, and knowing what needs to change, with an eye for people and planet."
Interested in Anderson MacGyver's solutions for digital services?
Contact our specialists! We are happy to assist you.
Thanks to technological advances, education is personalizing along the principles of 'any time, any place, any path, any space'. Universities and colleges will likewise offer modern online and offline learning concepts. The required flexibility, scalability and user experiences require an appropriate IT infrastructure that facilitates this optimally. From our consultancy practice in the education sector, we present the vision on this topic as seen by some of our customers. This week, Ellen Schuurink, Manager Digital Operations at Utrecht University of Applied Sciences, has the floor.
'The coherence in focus'
Ellen Schuurink has been working for Hogeschool Utrecht (HU) since 2016. After she started as Manager Digital Learning Environment and Digital Research Environment she made the connection between didactics and IT. At the time, the focal point was the newly formulated digitalization ambition, focusing on personalized education, among other things. Agile, DevOps and low-code development were important tools in the realization.
As Manager Digitalization Business Operations, she is now shaping the next battle in digitalization, in which three elements play an important role: people, processes and IT. "Business operations are organized in such a way that students, teachers and researchers can focus optimally on their core tasks."
Innovation and optimization
HU is one of the large educational institutions in the Netherlands with almost 35,000 students. "Given our nature and size, everything we do ultimately has a significant social impact," says Schuurink. "With all the initiatives we undertake, we ask ourselves, for example, how this will make things easier for the student or teacher, or how it will improve the process."
Ultimately, everything must be in line with the digital strategy. "In doing so, we are always looking for the balance between innovation and optimization." Some time ago, with the help of Anderson MacGyver, the Manager Digitalization Business Operations and her team ran a project in the ERP domain, aimed at optimizing basic administration. "That too involved the trade-off between super fancy and super simple, or something in between."
Target audiences
By examining the entire process and the supporting IT, you will easily get a good picture of of the coherence. In the ERP project, for example, the relationship with the various related financial and HR processes and systems became clear. This includes matters that seem more distant from these processes. As a result, the impact of choices also emerges.
"For us, for example, a so-called contract student – a student who combines work and study – is of a different importance than a 17-year-old who chooses their studies following their high school in his or her region. The latter will come to us automatically, while for contract students we compete with other colleges and institutions, commercial or otherwise, at home and abroad," Schuurink said.
"Both categories relate to the administrative process, but for the young student from the region we can probably suffice with a standard solution in terms of CRM, while we may have to differentiate with regard to the contract student."
Vision and expertise
"In a decentralized governance, you can enter into dialogue about every point solution that should make the difference," says the Manager Digitalization Business Operations. "For a lot of support processes, uniform systems suffice. It's a missed opportunity to do all of that on a small scale and every man for himself. That does require a clear demarcation, where you choose technological solutions that fit the strategy and the purpose of use."
"Anderson MacGyver helps us get the insights based on which we can make these choices. They make a nice picture of that. They also know the products available in the market. Everyone brings in his or her individual knowledge and skills: overview, content, execution power, knowledge of architecture and so on. That all works well with the people involved on our side."
Pressure cooker
In the trajectory with Anderson MacGyver, a pressure cooker was chosen, aimed at delivering two things: the documentation of the thought process and their outcomes, plus a translation into business impact suitable for decision-making in the IT board. The focus here was on the supporting processes.
Together with the IT board, costs are also considered. "By investing in IT you can improve things, but the operating costs have to be kept under control."
"The question here is also: where do things need to be stable and reliable, and where is agility required? What buttons do we need to press to be effective and efficient, but with the right change capacity and absorptive capacity? Here it is all about finding a collective point of view."
"

Our approach is characterized by simplicity, elegance and a proven methodology

"

Erik Vuurregge – Lead Strategy and Management Consultant by Anderson MacGyver
Starting point
"The target architecture is the starting point," says Ellen Schuurink. "The interpretation must be based on the question in which areas you want to be distinctive as an organization and where uniformity is sufficient. Thanks to the trajectory with Anderson MacGyver, we have a handle to give direction to this."
Interested in Anderson MacGyver's solutions for digital services and digital strategies?
Contact our specialists! We are happy to assist you.
Thanks to technological advances, education is personalizing along the principles of "any time, any place, any path, any space". Universities and colleges are also increasingly offering modern online and offline learning concepts. The required flexibility, scalability and user experience require an appropriate IT infrastructure that facilitates this optimally. From our consultancy practice in the education sector, we present the vision on this issue as seen by some of our customers. This week, Ronald Stolk, Director of the Center for Information Technology (CIT) and CIO of the University of Groningen, has the opportunity to present his views.
'Ingrained habits up for discussion'
Ronald Stolk, as Director Center for Information Technology (CIT) and CIO, has been responsible for all IT-related matters of the University of Groningen – a broad education and research institution with 40,000 students and 8,000 employees – since 2017. This includes the IT organization, the fiber optic infrastructure, the data centers, applications and the hardware in the study halls.
In addition to office automation, focused on HR, finance and facilities issues, among others, there is support for the research and education domains. To do this as well as possible, a transformation was initiated five years ago, which was completed over two years ago. IT staff was organized across domains in Agile teams. Consultants combined IT and specific domain knowledge and, together with teachers and researchers, looked for the best-fit solutions. Regular services were also supported in this way.
The covid-pandemic has made it even more visible how important digitalization is to the university. "In that sense, we're floating more and more on IT," says CIO Ronald Stolk. "From a traditional structure you are far too slow to quickly and adequately support that. Therefore, you have to allocate responsibilities further down in the organization: people should be able to make their own decisions to a certain extent in conjunction with the IT consultants."
Expertise
Many things are developed in-house based on the available expertise. In terms of education, think of the possibilities for examination in digital rooms, where students must be able to look things up in Wikipedia, for example, but are not allowed to talk online with friends. That requires specific adjustments to the network. In the digital tests that students can take at home, the questions are randomized, which makes discussing difficult.
With respect to research, it is often about facilitating data processing, sometimes with proprietary equipment and proprietary datasets, which of course must meet the FAIR principles of findable, accessible, interoperable and reusable. In addition, the university traditionally had capabilities for high-performance computing – once set up for the data processing of the Westerbork radio telescope.
The size and diversity of the University of Groningen presents Ronald Stolk – who is also a professor of clinical epidemiology – and his colleagues with challenges when it comes to secure, high-performance, available and appropriate IT support. "We serve the most idiosyncratic beta researchers, who prefer not to be limited by standards, but also philosophers who primarily use a text program, so to speak."
Challenges
Naturally, there is a considerable emphasis on security within all functions and domains. It is important that students and employees restrict themselves to centrally facilitated and controlled facilities and do not share files and data via Dropbox or other services. "Then hackers can enter in a flash. Sharing passwords with colleagues and assistants is prevented through two-factor authentication."
"In addition, in terms of security, there is also a behavioral side," Stolk continues. "People have to understand that in terms of IT you can't just bring in all kinds of things you've bought or developed yourself. Something like that would be unthinkable at a bank, for example. There, everyone automatically goes along with the standard."
Besides that, there is another tension at play. "Universities employ very special and important people who discover beautiful things for society. In doing so, they often push the boundaries: building their own solutions for research, inventing things. Those lecturers and researchers are part of one of the eleven faculties, all of which are organized differently. They have a certain degree of autonomy and with that come their own wishes regarding the same central IT service."
Governance
Anderson MacGyver has very effectively supported the university on their journey. The Agile transformation that was initiated five years ago was 'exected' in order to be able to translate questions and requests easily into the most appropriate solutions. Ronald Stolk: "The optimal governance is clearly visualized with areas and colors. Moreover, a distinction is made between IT support that can be standardized and IT with which you really distinguish yourself as the University of Groningen."
"

Our approach is characterized by simplicity, elegance and a proven methodology

"

Erik Vuurregge – Lead Strategy and Management Consultant by Anderson MacGyver
"For example, we recently incorporated a computing cluster costing tons into the infrastructure, financed from the decentralized research budget. Sometimes there is a grey area, with a server running somewhere under a desk or in a broom closet. Then you have a challenge in terms of governance. Anderson MacGyver taught us how best to interpret and adjust those things."
"The view from outside by Anderson MacGyver's experts is that they aren't limited by taboos. Ingrained habits are easily brought up for discussion. I am satisfied with what we have managed to do, and I'll keep working on more and more improvement."
Interested in Anderson MacGyver's solutions for digital services?
Contact our specialists! We are happy to assist you.
Thanks to technological advances, education is personalizing along the principles of 'any time, any place, any path, any space'. Universities and colleges will likewise offer modern online and offline learning concepts. The required flexibility, scalability and user experiences require an appropriate IT infrastructure that facilitates this optimally. From our consultancy practice in the education sector, we present the vision on this topic as seen by some of our customers. This week, the floor is given to Rob van den Wijngaard, Director of the Administrative Shared Service Center at Leiden University.
'Replacing complexity with uniformity is a quest'
The Administrative Shared Service Center (ASSC) was established in January 2021 within Leiden University, which, from a multidisciplinary perspective, will have to make an important contribution to the realization of an appropriate, future-proof IT infrastructure.
ASSC director Rob van den Wijngaard and his teams have been facilitating various functional domains and stakeholders in the field of HR, finance, IT, customer relations and document management from the ASSC for over a year. "Our field of work is broad and diverse within a complex environment. Due to the decentralized setup, the faculties have a high degree of autonomy. The challenge is to provide an efficient, user-friendly and contemporary service with which everyone is satisfied."
"If you really want to mean something to people and the organization as a shared service center, then mutual chemistry, trust and being people-oriented are fundamental," says the ASSC director. It typifies Van den Wijngaard as a leader and helps him with his responsibilities within Leiden University. "I usually give a lot of space and trust to colleagues. That's how you make the most of everyone's unique traits and skills, so too within the MT."
Multidisciplinary
Leiden University, like any traditional educational institution, operates in a changing social and economic dynamic in which the organization must move efficiently, quickly, with agility and scalability to meet the changing needs of both students and people working within teaching, research and support functions. "This development is being driven by broad digitalization." Other keywords include connection, innovation, diversity, inclusivity and self-reliance.
Digital transformations, according to Van den Wijngaard, should not be limited to modernizing existing IT. "Such a fundamental change process is highly multidisciplinary. If you pull a string within one domain, it will irrevocably move elsewhere. The HR component in particular is very important and is quite often overlooked."
The ASSC director promotes a multidisciplinary approach that includes aspects such as people and culture, processes, management and organization, customer interaction and information technology. Change is thereby always embedded in the big picture.
Industry standards
That holistic view was also the starting point of Anderson MacGyver's analysis, which involved all key activities and stakeholders: boards of directors of functional areas like HR, finance and IT. Plus the people responsible for information management, the ISSC (focused on hardware support) and the ASSC board. "The result is a widely supported and inspiring report including a concrete approach for the follow-up process."
Van den Wijngaard continued: "The report confirmed what we already thought: that for many basic activities you can suffice with uniform processes and solutions. You can for example use cloud-based platforms in the HR domain. Think of Workday or SuccesFactors, which have been developed as 'industry standards' specifically for higher education or for a specific functional domain."
Uniformity
Anderson MacGyver's MultiModal analysis helps with what is known as the "fit for future" design of IT. The colors green, blue, orange and purple stand for different types of business activities, such as: common, specialized, distinct and adaptive business activities. (a more in-depth explanation of the model and business activities colors can be found in our whitepaper 'MultiModality')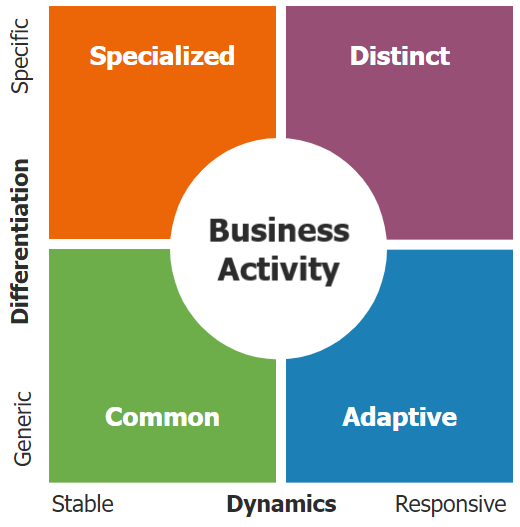 The analysis showed that a lot of energy was spilled on insufficiently uniform and harmonized basic activities. When you address this, people can put more time and energy into things that make a difference for the university. "Set up eighty percent of all things tightly and as standardized as possible. For the remaining twenty percent, you then provide customization or specific solutions, with which you optimally relieve and support people."
"

Our approach is characterized by simplicity, elegance and a proven methodology

"

Erik Vuurregge – Lead Strategy and Management Consultant by Anderson MacGyver
Fundamental choices
Going from "orange" to "green" requires making fundamental choices. "Replacing complexity with uniformity is a quest – both when rolling out new solutions and replacing legacy. You can't force illogical solutions down people's throats. But you also don't have an unlimited budget to deliver the optimal solution for everyone."
"Sometimes you are helped by vendors discontinuing support for older applications. Another time there is a strong impetus from the business. The trick is to continually seize the momentum and urgency to roll out a new application and the corresponding updated processes. All aimed at better supporting the process."
Organizational dynamics
This often requires a different way of managing. Hierarchy is making way for a network-like structure, in which, as stated, action is taken on the basis of cohesion. "Within the complex organizational dynamics there is often an imbalance between the way you organize processes, IT and responsibilities. You can only put the right pieces of the puzzle in place when the organizational structure is in order."
Within Leiden University, the ASSC is a link in the overall chain where execution, policy and the organization come together. "From that triangle we look for the connection to get things done."
To avoid creating false expectations, Rob van den Wijngaard says it is important to communicate well with all stakeholders. "It requires constant coordination and transparency to match our solutions to the expectations, urgency and ambitions. Again: that quest is our challenge, given the obvious limitations in terms of people and resources."
Solid foundation
Due to the scarce internal resources and the high workload at the university, the 'fit for future IT' is still a work in progress. "That's an important disclaimer." The journey is not an easy one. The ASSC director is nevertheless satisfied with the results: "We exist for eighteen months now. In the first year we worked hard to put a solid foundation in order, also in terms of MT and teams. In the meanwhile, great solutions have been rolled out."
Interested in Anderson MacGyver's solutions for digital services?
Contact our specialists! We are happy to assist you.
Anderson MacGyver
The core purpose of Anderson MacGyver is to harness the unrealized business value for our clients by leveraging the powerful potential of technology & data. We provide strategic advice and guidance to board members and senior management to shape and drive their digital journey.